New Math Mammoth books: Multiplication 2, Division 2, Place Value 4
Some recent additions to Math Mammoth Blue Series books: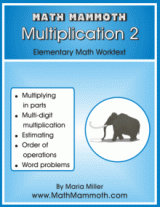 This book concentrates on multi-digit multiplication, first explaining what it is based on (multiplying in parts), then practicing the algorithm. also included: order of operations, multiplying with money, and lots of word problems.
See sample pages here: (PDF)
Contents & Introduction
Multiply by Whole Tens and Hundreds
Multiply in Parts
Multiplying in Columns, Standard Way
Error of Estimation
Order of Operations
Money and Change
Multiplying 3-digit by 2-digit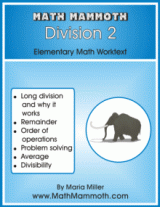 This book includes lessons on division, long division, the remainder, part problems, average, and problem solving.
See samples:
Contents and Introduction
Division Terms, Zero and One
Finding Parts with Division
Long Division 1
Long Division with 4-Digit Numbers
Average
Divisibility Rules
NOTE: Multiplication 2 and Division 2 now replace the earlier book called Multiplication Division 2.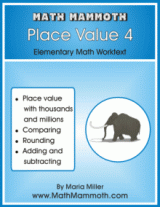 In this book, the focus is on place value with
thousands, ten thousands, and hundred thousands. We also study numbers with millions a little. The book is most suitable for third or fourth grade.
See sample pages (PDF):
Contents
Thousands
Rounding
Estimating
A Little Bit of Millions