Math Mammoth Blue Series for grades 1-3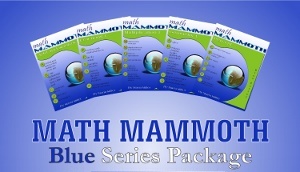 16 Blue Series books
Price: $34 (download)
All in all these books contain about
760 lesson & practice pages.
Buy at Kagi
Now there's another option to buy the Blue Series books as a package deal:
Blue Series Package, Grades 1-3
contains all the Blue Series books appropriate for first, second, and third grade. This is currently priced at $34 and contains these 16 books from the series:
Addition 1
Subtraction 1
Add & Subtract 2-A
Add & Subtract 2-B
Add & Subtract 3
Place Value 1
Place Value 2
Place Value 3
Multiplication 1
Division 1
Clock
Measuring
Early Geometry
Money
Canadian Money
European Money
Introduction to Fractions
Learn more!