Math Mammoth South African Money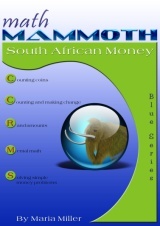 A new book for the Math Mammoth Blue Series topical books....
South African Money
.
This book covers counting South African coins (rand and cents), solving simple money problems, counting change, and adding money amounts.
The cost as a download is
$3.25 USD
.
See these free sample pages: (PDF)
Contents
Practicing with Coins
Counting Change
Rand
Adding Money Amounts
I hope this is of help to our homeschooling friends in South Africa! And teachers too!